Treats café, gourmet take-away & catering
Treats licensed café / food store – a favourite breakfast spot for skiers and locals alike
Ideally located in the Bogong Ski Centre in Tawonga South near Mt Beauty, you can stop for a meal or pick up your 'meals to go' on the way to Falls Creek Ski Resort.
Our modern café food is also available all day, ranging from simple sandwiches to foccaccias, quiches, frittatas, soups, and more!
'Meals to Go' menu
It is always a treat to eat at Treats whether you go for breakfast (available all day), lunch, dinner or anything in between, you will be guaranteed delicious food all made with care on our premises.
Treats café is well known for its huge range of both gourmet home-style and café-style foods, all ready for you to heat and eat. We can supply you with a single packaged meal or a whole week's worth for your skiing trip, ready and waiting for you to pick-up and take-away or we can deliver your prepared meals to your residence or ski accommodation.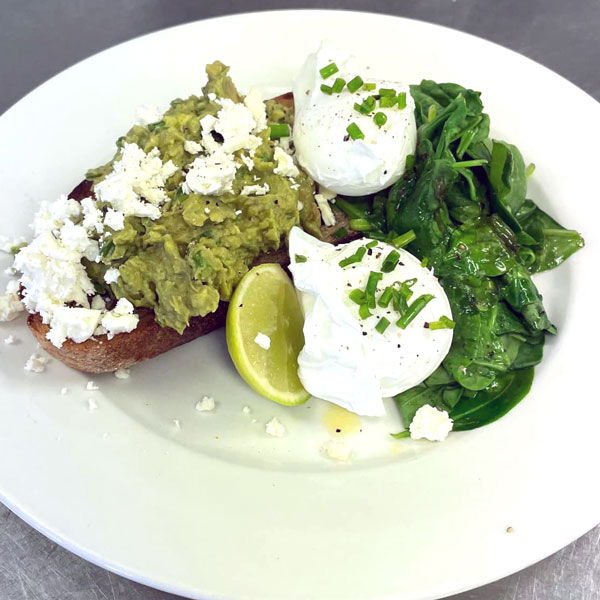 We also offer catering services for weddings, parties, special functions and business conferences.
A bit of history
Treats café opened at Bogong Ski Centre in 2000. Liz Cinatl, its owner and founder, has been operating food businesses in Tawonga South, Mt Beauty and Falls Creek since 1981, including The Village and Winterhaven" all a-la-carte restaurants that have been written-up in The Age's Good Food Guide.
Liz Cinatl is devoted to researching prime ingredients, even for the simplest menu items, believing that you can't make a quality product from poor ingredients, and her team of committed staff follow in her footsteps!
Treats is so many things to so many people.
A place to escape to have a peaceful cup of coffee and/or a delicious homemade cake
A breakfast and lunch venue
Somewhere to pick-up a delicious meal, ready to heat and eat at home
A place to order a special item to include in a dinner party
A place to buy homemade jams and condiments, packaged biscuits and other treats
A place to unwind with a glass of wine
A place to come when needing catering
A place to order a specialty cake – no job is too big or small for this team!
A place to order a week's worth of food to take to the snow
Come in and sample our delicious homemade food!
Press reviews
Good Weekend: June 7, 2003
Treats at Bogong Ski Centre
This great café is a hot spot during the day among skiers who come in for the home-cooked meals such as hearty soups, curries, casseroles, toasted focaccias, the best cakes and savoury flans. If you're on the run, the staff will package up anything on the menu for you ? perfect for serious skiers. Weekends, 7am to 7pm Kiewa Valley Highway, Tawonga South: 5754 1515
The Age Good Food Guide, 1998-2000 – Snowfields, p181
Winterhaven
Ask any Falls Creek local for a dining recommendation, and they'll tell you to point your skis towards Winterhaven and push. Host Liz Cinatl has turned this restaurant into Falls Creek's most loved eatery. In summer, and during winter lunches, it's a casual bistro with a blackboard menu. Winter dinners take on a completely different air: cloths and candles ont he tables, dim lights and a warming open fire. Air-freighted seafood features prominently in winter, but we recommend Winterhaven's signature Caesar salad; marinated sardines; the peppered salmon filler; or Moroccan-marinated lamb. The wine list is enormous and includes good vintage stock. A cosy bar is open from noon during winter.
The Age Good Food Guide, 1988 – Country, p139
Sasha's Tawonga South
Sir Gustav Nossal warmly recommends this new restaurant in the Kiewa Valley, built by Sasha Cinatl who, with his wife Liz, have long been identified with a passion for good food in nearby alpine resorts. Sasha's is a semi-colonial style building with a bullnose roof and verandah, and glorious views across the valley to Mt Bogong. The interior is in muted shades of blue, grey and green, with antique bentwood chairs and paintings by local artists. The food is multi-cultural and imaginative, anything from baby veal schnitzels to pork and water chestnut kebabs with chilli-plum sauce. Lunchtime is more casual, with lighter and less expensive food. Once a month, the Cinatls have a "fun night" featuring a national cuisine or seasonal feast for a fixed price. The restaurant is also open throughout the day for coffee, tea and snacks, and the Cinatls hope to make Sunday brunch a feature.
The Age Good Food Guide, 1982, 1983, 1984 – Country, p132
The Village Restaurant, Mt Beauty
Sir Gustav Nossal writes: "Liz Stow and Sue Losch provide a delightful ski-village atmosphere and delicious food at very reasonable prices. The menu changes continually, but among our favourite dishes were the entree of artichoke hearts in sour cream − deliciously glazed by some mysterious process and with just enough of a hint of anchovy to be really intriguing − and the chicken breast with cherries; an amazing sweetness that permeates the whole meat."